How 5G is Driving the Future of Smart Railways and Freight Transport
Ronald van Loon, CEO & Principal Analyst at Intelligent World, explains how next generation technologies are forming the future of rail, following a visit to the East-West Gate intermodal terminal.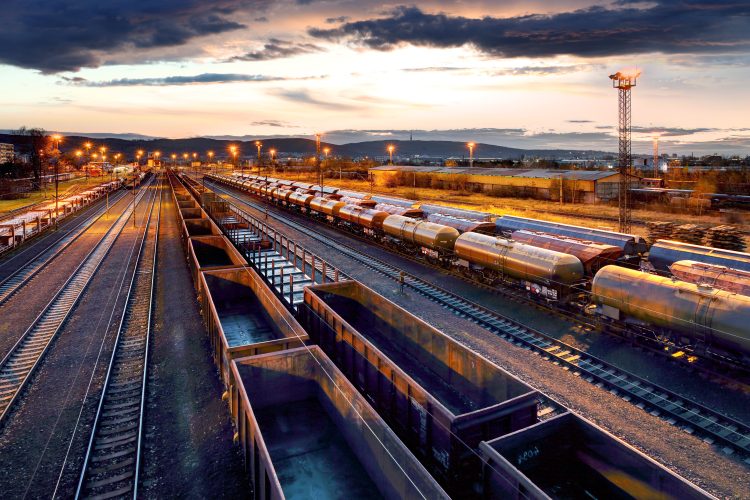 5G, AI, and cloud are leading to the digitalization of logistics and transport sectors and the development of smart railway terminals. Smart railways are made possible with next-generation technologies that bring new levels of safety, connectivity, and sustainability.
我有惊人的机会最大facility on the European continent in terms of area and capacity. The East-West Gate (EWG) intermodal terminal is built near the Ukrainian-Hungarian border in Fényeslitke, Hungary.
This terminal is built in collaboration with Huawei to accommodate trucks and rail trains and with the capability to load full trucks and conventional road semi-trailers onto a rail. This improves the efficiency of freight traffic at the EU border, and is even adaptable to suit the war climate in Ukraine by being able to transport goods coming from Ukraine.
This project promotes a new modern era of safe, healthy, clean environments for logistics and transport workers, attracting a new generation of talent.
Meeting Industry 4.0 & EU Climate Objectives
这个终端是真正了不起的the first of its kind in the entire world to bring together the complexities of information spread across the logistics centre in real-time. This terminal is built on EWG's own 5G network and in accordance with industry 4.0 standards and the EUs climate objectives.
This is the first terminal in Europe that can remotely control cranes using 5G. High-resolution cameras are installed on each crane so terminal headquarters can remote view in real-time.
EWG的卡车、拖车和集装箱be tracked in real-time using cameras installed at the gates and cranes. Even their customers can track their cargo in real-time by using cameras to view their containers and vehicles.
The facility also boasts a virtual twin of the terminal that gives an end-to-end 3D real-time digital view of processes and operations, including trucks, trains, cranes, delivery vehicles, and goods. This helps organizations achieve operational and strategic value using a smart architecture to intuitively simplify operations, allowing for advanced analytics and simulations across their entire company landscape.
Huawei and EWG demonstrate the effectiveness of 5G in delivering industry-wide value, help to inform the public about the social value of 5G, and showcase how a collaborative ecosystem can spur innovation.
Logistics & Transportation Challenges
Technology integration is integral to the transportation and logistics industry, combining the complexities of warehouse management systems, transportation systems, fleet tracking systems, and data and analytics capabilities.
However, the transportation sector is challenged by rising labour costs, high fuel costs, maintenance expenses, and regulatory compliance. Supply chains are becoming more complicated as more vendors, suppliers, distributors, and manufacturers need to be synchronized and coordinated globally.
Also, workplace conditions in the railway sector are harsh, which limits the number of years people can work. This results in the railway industry having difficulty attracting new and younger talent.
Lastly, the logistics and transportation industry are having a drastic impact on the environment, and environmental sustainability is a top concern to reduce waste, emissions, fuel, and energy consumption.
Companies with advanced, unified digital strategies are currently at a significant advantage, led by transportation leaders that recognize they need to change to keep pace with a new, evolved logistics and transportation landscape.
Research indicatesthat there is a reconfiguration of supply chains occurring, and freight companies must move onshore or nearshore to "alleviate supply chain challenges and improve their competitive positioning." Supply chain companies have to reimagine their infrastructure and vendor interactions.
It's not just supply chain companies that must rethink their strategies and positioning. Delivery, distribution, warehousing, and manufacturing companies are all adapting to this new environment. At the same time, new players are entering the space, like new manufacturing and warehouse locations, that change the network of how goods and services are connected.
Collaborative 5G Innovation Accelerates Transformation
This project with Huawei and EWG demonstrates how digitalization accelerates industry transformation. If organizations across sectors work together, they can solve industry-wide challenges and create new value. This encourages industry players to collaboratively innovate across numerous industries and to adopt 5G.
This EWG smart terminal has created 100 new jobs that require digital skills, and it will indirectly employ 500 additional workers. This new smart terminal eliminates operational restrictions because 5G enables remote operations for crane operators in comfortable conditions.
Also, this reduces operational risks, creating more employment opportunities for women while attracting a younger and new generation of workers, positively impacting social value.
This project accelerates transformation for Hungary, and logistics companies can replicate this approach across the railway transport industry. This is a major milestone achievement for the industry, connecting European trade across the East and the West using a successful smart 5G freight terminal.
Enhancing productivity by 20%
Reducing Opex by 40%
Reducing workplace accidents
Improving identification accuracy
Improving energy conservation with 100 solar 5G sensors
Significantly improving the workplace environment
5G Digitalization of Transportation & Logistics
5G digitization of the transportation and logistics industry is ushering in a new era of collaboration, and companies must evaluate how they can provide exceptional customer experiences by acquiring new capabilities and creating differentiated global partnerships.
Governments and industry leaders must guide industry modernization and set the standards for makingfreightmore resilient and sustainable.
Related topics
Related people